https://link.springer.com/article/10.1057/s41268-020-00187-8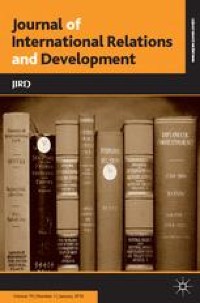 Why do political actors prefer one counter-terrorism policy over another? We apply discourse network analysis and the advocacy coalition framework to the recent debate on counter-terrorism measures in Austria and argue that actors' positions are based not so much on objective security factors and international or structural causes but on domestic politics and three interdependent variables. Political actors choose specific counter-terrorism policies because of: (1) a sense of ownership; (2) ideology; and (3) anticipated political gains. We show how different actors in Austria exploit the counter-terrorism debate to shield themselves from being blamed for being passive, to promote their ideological views, and/or to gain politically.
What causes politicians to endorse or oppose the curtailing of civil liberties in the fight against terrorism? Read our paper "Contesting counter-terrorism: discourse networks and the politicisation of counter-terrorism in Austria" in @JIRD_jour:
Argument: We argue that Counter-terrorism legislation is not the outcome of an objective analysis of externally induced threats and responses to these threats, but the product of three interdependent variables:
(a) a sense of ownership by those responsible for fighting terrorism; (b) a green/alternative/libertarian (GAL) vs. traditional/authoritarian/nationalist (TAN) orientation; and (c) the anticipated political gains by party leaders of supporting/opposing certain legislation.
Design: For this exploratory study, we use the case of the Austrian debate on the implementation of several surveillance and other counter-terrorism measures and apply Sabatier's Advocacy Coalition Framework, and @PhilipLeifeld Discourse Network Analysis to answer our RQ.
Results: The failure to pass a new law on data retention (#Vorratsdatenspeicherung) in Austria was caused by the ideological orientation, the lack of ownership, and the anticipated political gains/losses of critics, and not by an informed discussion of objective threats and need.
Take away: Politics does not stop at the "water's edge" when it comes to counter-terrorism. This policy field is highly politicised and contested. The adoption of (or the failure to pass) counter-terrorism legislation is a function of ownership, ideology and political gains.
Thanks to everyone who supported us with their valuable comments, esp. @JIRD_jour reviewers, @ECPR general conference discussants, David Rowe and Alan Draper , our colleagues at the Deparment of Political Science, and University of Innsbruck and Land Tirol for funding our project.